CHANGING THE WORLD
SYNDÉO is changing the way the world thinks of, designs, and deploys Smart City technologies. We are committed to facilitating the building of safer, better-connected and aesthetically pleasing communities.
Municipalities around the globe are being pressed with requests by technology companies to utilize public assets for deploying Smart City technologies like; small cells, antennas, sensors, multi-access edge nodes and beacons etc. In fact, the tsunami of requests is only beginning, and as more and more technologies come online, the problem is only going to grow. The question remains, "where will all of this tech live in the physical world?"
NEW SOURCE OF REVENUE   |   CONNECTED CITIZENS   |   SAFETY   |   SECURE   |   BLENDS INTO ENVIRONMENT
MUNICIPAL BENEFITS
Creates a new revenue stream by enabling existing right of way
Unparalleled security for technology deployments
Superior concealment that blends into the urban 'cityscape'
Cost competitive to alternative deployment solutions
A multipurpose solution that serves as a home for Smart City technology and facilitates upgrading ADA required curb ramps at no cost to the municipality
Enables collocating technology as a neutral host
Facilitates the opportunity to increase connectivity
Advanced video traffic management and security systems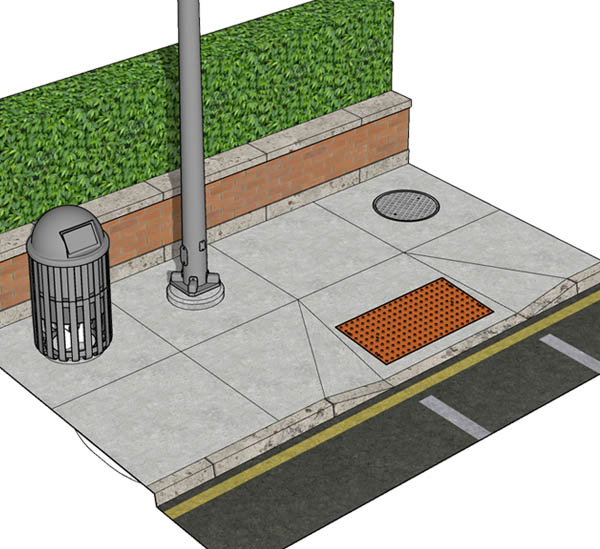 No longer are municipalities limited to utility poles, light poles and roadside cabinets for the deployment of small cells and emerging Smart City technologies. If left unchecked, municipalities are going to see a surge in the clutter on these assets adding unwanted, ugly and unaesthetically pleasing deployments. Transitioning to a Smart City should not come with a tradeoff of cluttered poles and additional roadside cabinets that negatively impose on the cityscape.
The Smart Vault offers municipalities a profound opportunity to conceal smart city technology, and public infrastructure assets under sidewalk curb ramps, sidewalks and terraces.
SAMPLE MUNICIPAL USE CASES INCLUDE:
Small cells | UPS battery backup | Neutral host | Beacons for city wayfinding and proximity messaging | Multi-access edge node | Autonomous vehicles nodes | Traffic signal controllers | Advanced video traffic management and security systems | Waterproof fiber junction box