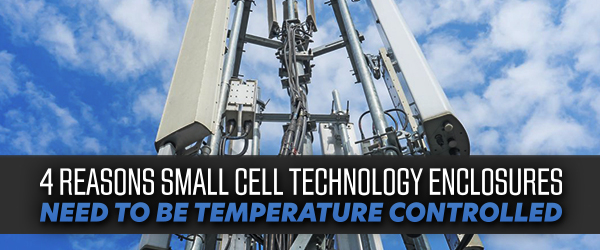 4 Reasons Small Cell Technology Enclosures Need to Be Temperature Controlled
Small cell technology enclosures are often exposed to unpredictable, irregular, and sometimes unusual conditions, many of which are capable of causing malfunctions and failures. Unless proper cooling and protections are in place, the environment can be the biggest obstacle that your technology faces. Here are the top 4 problems that outdoor enclosures face due to temperature and weather.
Problems With Excess Heat and Cold
Because of the constant variations and sometimes extreme highs or lows of weather temperature, it isn't enough that your technology is just contained in something to generally protect it from the elements; it needs a cooling system as well. Heat is one of the most common causes of failures in batteries. Even if there is no apparent malfunction, changes in temperature can shorten battery lifespan.
Enclosures need to take more than just outdoor temperature into account when accommodating for heat; they need to be protected from solar heat gain as well. That's why it's so important to have a cooling system which can identify all heat sources and determine the best enclosure cooling capacity.
Heat isn't the only issue that enclosures can face, however; extreme cold can affect overall system performance as well. Furthermore, if condensation starts to form on the inside of an enclosure, it's probably necessary to have a heating system along with a cooling system to sufficiently protect equipment.
Wind
Wind can blow particles of dust and dirt into an enclosure if it has inadequate or faulty seals. These particles can then clog filters, impair the heating and cooling systems, and affect the overall lifespan of the unit. Most enclosures will need a closed-loop cooling system in order to maintain proper temperatures and successful functioning as a way to eliminate the impact of dirt and debris.
Water Damage
Condensation, water spray, and humidity can all have detrimental effects on a technology enclosure. For example, downpours have a good chance of entering faulty seals and severely damaging or even corroding equipment. Thus, the enclosure's cooling system needs to protect against water and high humidity if you want to guarantee the technology's safety and performance.
Lack of Control
You can't rely on the environment to be cooperative; you can't even rely on it to be predictable during any season of the year. Weather and environmental factors can cause problems from all angles, whether the issues are expected or entirely a surprise. So how do you ensure that you have an enclosure which protects against all problems that can be encountered?
SYNDÉO's Smart Vault takes every complication into account and protects your equipment just as needed. Electrical enclosures must have thermal controls, not only to correct for fluctuating, dangerous temperatures but also to protect against the detrimental effects of other environmental factors. The Smart Vault is secure and waterproof; it is thermally controlled and has a quasi-clean room cooling available for you. The Smart Vault utilizes multiple layers of both physical and digital security to protect your gear, and the enclosure is strategically designed to seamlessly blend into any tactical location. The Smart Vault sits under ADA ramps, sidewalks and terraces and has many different configurations that are available to meet a variety of needs, making it the perfect choice to house your Smart City technology.